The Harpenden Health Primary Care Network (HHPCN)
The Elms Medical Practice / The Village Surgery / Davenport House Surgery
We are all here for you when you need us
---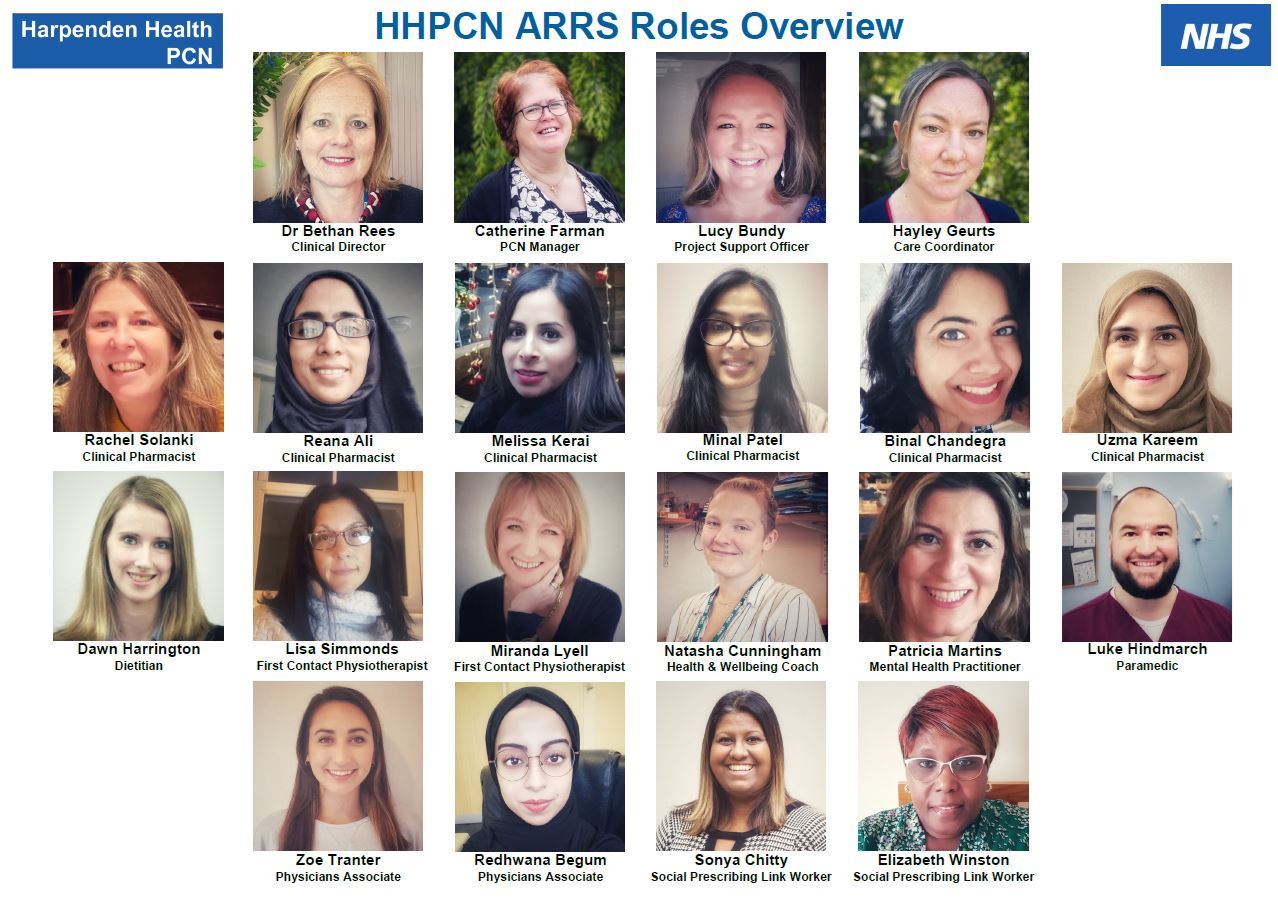 PCN Roles at Davenport House
Luke Hindmarch - Paramedic : Minor Illness Clinic on a Thursday - dealing with Minor Illnesses; Acute Abdominal Pain, Bites and Stings, Chest Infections, Coughs, Colds, Diarrhoea and Vomiting, Fainting, Hayfever, Minor Rashes and Skin Infections, Sinusitis, Sore Throat and UTI's.
Redhwana Begum - Physician Associate: Long term condition care - review and management; Hypertension, COPD. Minor Presentations; Minor Illness; Contraception
Zoe Tranter - Physician Associate: Long term condition care - review and management; Asthma
Minal Patel + Reana Ali - Clinical Pharmacist : Structured Medication Reviews, Diabetic Reviews, Care Home Reviews
Dawn Harringston - Dietitian : For GPs to refer to for the following conditions; Newly Diagnosed Type 2 Diabetes, Irritable Bowel Syndrome, Disease Related Malnutrition and New Diagnosis of Pre-Diabetes
Lisa Simmonds + Miranda Lyell - First Contact Physiotherapist : highly specialist MSK physiotherapists that have experience of orthopaedic MSK assessment clinics and a thorough understanding of the management of MSK and orthopaedic conditions in secondary care. The FCP works directly in GP practices to assess and manage patients with MSK conditions for patients over the age of 16, with muscle, joint or ligament pain or with a mechanical MKS condition. Lisa has a clinic on a Monday at Davenport House and Miranda has a clinic on a Tuesday at Davenport House.
Elizabeth Winston - Social Prescribing Link worker : Dealing with Referrals to specilaist services such as ; Respite Care, Paperwork support and Blue-Badge Applications, Money Advice, Life Coaching, Housing Repair, Pest Control and Decluttering services, Food and Clothing referrals, and Equipment and Wheelchairs.
Patricia Martins - Mental Health Practitioner : provide local and timely mental health advice, assessment, information and interventions for patients over 17 years old. To arrange an appointment, please contact the surgery reception team.
Natasha Cunnigham - Health & Wellbeing Coach : focused on helping patients to feel more empowered to make positive health and lifestyle choices, using a person centred, motivational, approach. Currently working on a Weight Management service, for a select group of patients.